The album artwork for the much anticipated new release by The Darkness, titled 'Last Of Our Kind' has been revealed. The artwork is a photo of a young baby that has been edited with great artistic flare. The cover star is Danielle – whose father took a photo of her a couple of years ago with promotional glasses emblazoned with The Darkness logo over them.
Danielle's father, John Bean – a firefighter in Golden Valley, Minnesota, USA – Kindly offered to answer some questions for JustinHawkinsRocks.co.uk about how the photo came about, and his thoughts:
How did you get hold of the glasses?
"I got the glasses a couple of years back. I believe I saw a Facebook post that the first 100 or so customers at TD merch store would get a free pair of these glasses with a minimum purchase. I grabbed two shirts and hoped for the best. Several weeks later the package showed up and needless to say, I was quite happy. Unfortunately, one of the shirts was so tight it looked like it had been spray painted on me."
What made you put them on your daughter and when was the photo taken?
"At that age, my daughter would only reliably sleep while in her car seat. I put the glasses on her to try to cut the light and get her pass out. Once they were on, I saw that it was too perfect a picture to pass up. She had been yelling at me right up until I raised the camera, then she gave me that look like, "I will punch you in the mouth if you take my picture"."
When did you find out that your photo inspired the Album Cover?
"I found out about the album cover on Monday [23rd February 2015]. I had missed some messages from Phillis [band representative]from earlier in the month. So when they finally got hold of me, it was go time, and a total shock."
What do you think of the end result?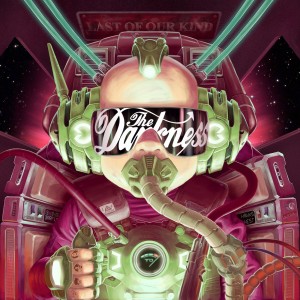 "I love the what they did. I think this is about as ok as any father could be with their daughter being involved with a rock band."
Have you had a lot of people contacting you to say good things? Any band members or representation?
"I have got lots of positive feedback. Some have asked if I got anything for the picture…yeah, I got my kid on the cover of a The Darkness album, and that is good enough for this guy."
Will you be seeing The Darkness when they tour in the US if you can?
"There is no "if". As long as TD make it to America, I'll figure out a way to be there. The closer to Minnesota the better, but anything will work."
Many thanks, John and Danielle – we hope you grow up to be as pleased with the artwork as we all are!
Last Of Our Kind is released on 1st June 2015. You can pre-order the album on Pledge Music – http://www.pledgemusic.com/projects/thedarkness
END
Note: Please link back to this original article or www.justinhawkinsrocks.co.uk when using this content.